No matter what type of mountain-biker you are, or whether your bike is always mud-splattered, in Emilia Romagna you will discover a huge selection of routes: rough tracks, steep descents, ascents that rob you of both breath and strength in your legs, wooded paths and also single track sections. From the coast to the inland regions and to the Modena Apennines, enjoyment is always assured.
• Mountain bike hotels •
• Mountain bike •
Modena Apennines

Mountain-bikers should put a star against this part of the Apennines, for it offers you over 120 different routes, climbing above 2000 metres in height, in an area extending to the provinces of Bologna and Reggio Emilia.
For starters, we would recommend the Mount Cimone Circuit: a 42.7-km route with a change in level of over 2000 metres, including 24% ascents, and rapid 37% descents. In both technical and physical terms, this is one of the toughest routes in the Modena Apennines, and so we would only advise it for expert, well-trained cyclists.
To follow this, there's the Foce di Giovo, the highest peak in the Tuscan-Emilian Apennines.
Gradara and Monte San Bartolo route

Gradara has been a centre of joy and pleasure since antiquity: hence its name, "grata aura" (good air).
There is a delightful route from here which takes you to the slopes of Monte San Bartolo.
You will encounter thick woodland, tracks leading down to the valley bottom, cycle paths along the River Conca, hills overlooking open valleys towards the sea, with shades of ochre set against the blue of the sky and the green of the surrounding countryside.
All you need to enjoy cycling through a lovely natural setting, with splendid historic attractions.
Route along the crest of the Gothic Line

If you don't want ride to a great height on your MTB, there's a route near Riccione which will suit you perfectly. Set amongst vineyards, wheat fields and olive groves, it is mainly on rough roads with only about 5.5 km on asphalt. But don't take it lightly: the frequent, repeated changes in rhythm can play some nasty tricks.
• Best mountain bike tours •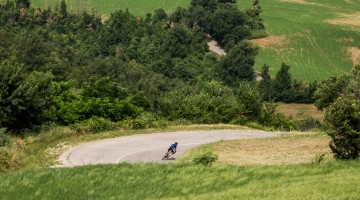 MORE
The river Ronco and Ravenna capital of Empire
| | |
| --- | --- |
| | Difficulty Easy |
| | Distance 77.5km |
| | Elevation gain 100mt |