For those who want to enjoy leisurely cycle tourism in Emilia Romagna, there's a real embarrassment of choice.
Every itinerary involves a journey through scents and colours, surrounded by villages and landscapes of amazing beauty. Take all the time you need to make the most of every trip.
• Leisure cycling hotels nearby •
• Leisure cycling •
Ferrara and Comacchio

Ferrara: the quintessential capital of cycling, a place where cyclists are kings of the road.
Hundreds of kilometres in both city and countryside are given over to the joy of cycling, travelling between nature reserves and the towns of the plain. This constant succession of different landscapes, traditions and flavours is brought together by the presence of water (Lidi, Burana cycleway, Destra Po).
This flat landscape, devoid of hills, is punctuated here and there by crenelated towers, trees or embankments.
Ravenna

Imagine the perfect mix between history, art and culture: the result is Ravenna. This special place not only has splendid natural resources, but also one of the world's greatest artistic legacies, the famous mosaics.
Exploring these wonders by bike is like living through a continuous story, thanks to the sheer variety of routes and itineraries on offer. Starting from the heart of the city, you can cycle as far as the coast, visiting some of the most evocative places in the Ravenna area.
Routes of natural interest, cycle-tourism itineraries, and dedicated cycle-paths: there really is something for every taste.
The Sangiovese route

If you want to commune with nature and enjoy the landscape at your leisure, the "Sangiovese" itinerary provides the perfect blend between countryside and sport, tradition and modernity. This "gourmet" route leaves from Riccione and takes you through a constant succession of thick woodland, olives and vines.
You can enjoy the wonderful flavours of Sangiovese and its towns, contrasting the ruby colour of SanguisJovis, the blood of Jove, (the name given it by a Capuchin monk from the convent of Sant'Arcangelo di Romagna) to the green of the hills and the brown of the soil.
But don't be in too much of a rush… the surrounding countryside is enchanting.
• Best leisure cycling nearby •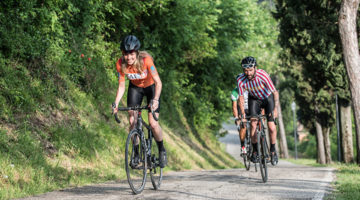 MORE
The wine route
| | |
| --- | --- |
| | Difficulty Medium |
| | Distance 56km |
| | Elevation gain 892mt |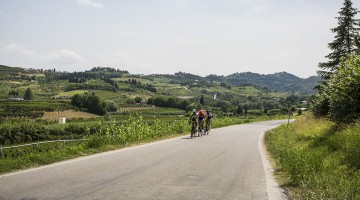 MORE
The Raphael Circuit
| | |
| --- | --- |
| | Difficulty Medium |
| | Distance 100km |
| | Elevation gain 1200mt |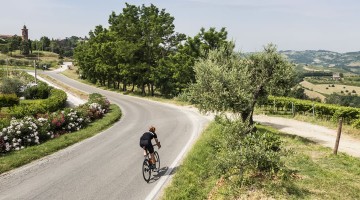 MORE
The Grillo Pass
| | |
| --- | --- |
| | Difficulty Medium |
| | Distance 90km |
| | Elevation gain 800mt |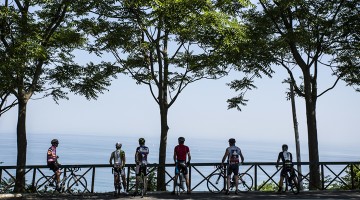 MORE
Sea, hills and sea again
| | |
| --- | --- |
| | Difficulty Medium |
| | Distance 85km |
| | Elevation gain 900mt |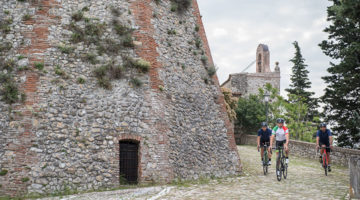 MORE
Circuit of the Becchi
| | |
| --- | --- |
| | Difficulty Medium |
| | Distance 87km |
| | Elevation gain 1100mt |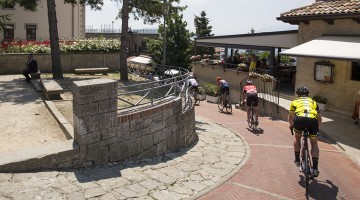 MORE
Valleys of the Marche
| | |
| --- | --- |
| | Difficulty Medium |
| | Distance 78km |
| | Elevation gain 900mt |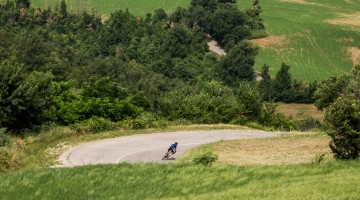 MORE
The river Ronco and Ravenna capital of Empire
| | |
| --- | --- |
| | Difficulty Easy |
| | Distance 77.5km |
| | Elevation gain 100mt |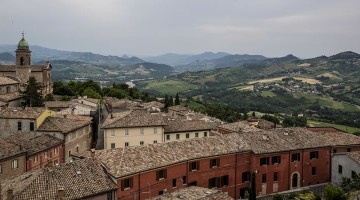 MORE
The hills of Romagna
| | |
| --- | --- |
| | Difficulty Medium |
| | Distance 101,25 km |
| | Elevation gain 1376 m |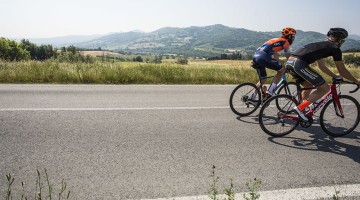 MORE
Castles and Fortresses of the Malatestas (via Colle Giove)
| | |
| --- | --- |
| | Difficulty Hard |
| | Distance 125.17 km |
| | Elevation gain 2,224 m |