Needless to deny: Rimini is the most populated and most important city on the Romagna Riviera, stretching over some 15 kilometres of Adriatic coast.
Offering a rich selection of hotels, nightlife, beaches and sports facilities, Rimini represents the very nerve centre of the Riviera in terms of tourism.
Vacationers have been enjoying the many facilities offered by the city for over 160 years, with 230 seaside resorts, 1200 hotels and many amusement parks. Here, the sea is part of the way of life, scenography beautifully captured in Fellini's films. However, Rimini has even more to offer.
At a historical and cultural level, no cities rival it in the Emilia Romagna region. The much-desired city, once the capital of the famous Malatesta Seigniory, has seen a great deal of fame as well as turmoil throughout its history and today continues to house a rich collection of historical treasures.
• Rimini bike hotels •
• Where to ride in Rimini •
Monte Ventoso

A distance of 90 km for a tour that takes us from Rimini to the ancient Republic of San Marino.
Two difficult climbs that put less trained legs to the test and that are also sure to challenge even well-trained cyclists.
From Rimini, we set off towards the hill of Covignano, following the winding Sgrigna coastline, a road full of curves and climbs that leads to Verucchio, along which cyclists can admire the vineyards where Verucchio Sangiovese Doc is produced.
Valconca and its medieval villages

For this challenge we set off from Misano Adriatico, famous for the circuit which every year hosts the MotoGP. A distance of 68 km climbing towards the medieval villages located in the hinterland.
The first 8 km are for warming up and take us towards San Giovanni in Marignano with the first ascent of the day at Santa Maria del Monte, to then continue towards Saludecio and Mondaino.
Approximately 12 km of continuous and mostly regular slopes at a gradient of around 6%.
In the "Jungle of Chestnut Trees" (MTB)

A distance of 32 km, very challenging yet equally evocative. Approximately 19 kilometres of the total itinerary are covered on dirt roads, with a significant change in altitude of 1,870 m and which, with some of the ascents, will test even the most expert climbers.
The route departs from Ponte Verucchio, heading towards Madonna di Saiano. The ascent along Via Poggiolo, leading to Torriana, makes it apparent right off the start that today's itinerary is no joking matter, with an average gradient of 8.3% and 25% peaks.
The "Gozzi Riminesi" (MTB)

The itinerary in question covers a distance of 42 km with a total altitude difference of 520 m, and retraces the route of the "Gozzi Riminesi" mountain biking event, in other words those climbs in succession, of short length, steep enough to challenge the legs of even the best trained cyclists.
We set off from Rimini towards Villa Francolini, making our way through Calorè, Sao Paulo, Casalecchio, Il Fondo and later returning back to Rimini.
The itinerary follows numerous horse trains and skirts several farms.
• Best tours nearby Rimini •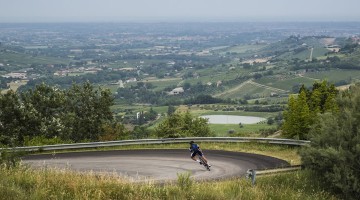 MORE
Mini nine hills
| | |
| --- | --- |
| | Difficulty Hard |
| | Distance 105km |
| | Elevation gain 1850mt |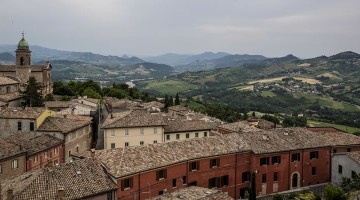 MORE
The hills of Romagna
| | |
| --- | --- |
| | Difficulty Medium |
| | Distance 101,25 km |
| | Elevation gain 1376 m |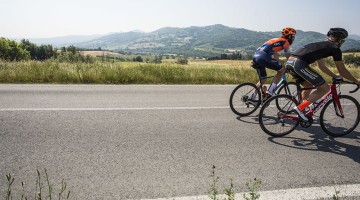 MORE
Castles and Fortresses of the Malatestas (via Colle Giove)
| | |
| --- | --- |
| | Difficulty Hard |
| | Distance 125.17 km |
| | Elevation gain 2,224 m |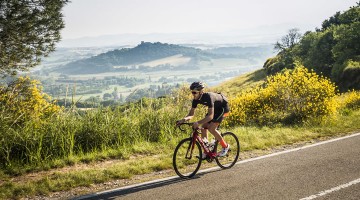 MORE
Cagliostro Visit (San Leo)
| | |
| --- | --- |
| | Difficulty Very hard |
| | Distance 105km |
| | Elevation gain 1850mt |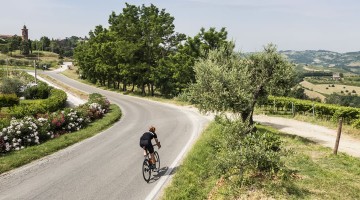 MORE
The Grillo Pass
| | |
| --- | --- |
| | Difficulty Medium |
| | Distance 90km |
| | Elevation gain 800mt |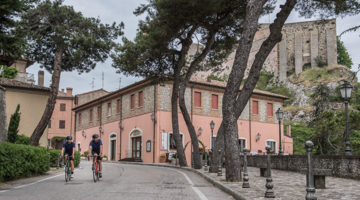 MORE
Circuit for climbers
| | |
| --- | --- |
| | Difficulty Very hard |
| | Distance 114km |
| | Elevation gain 1550mt |