Gentle rolling hills, acres of green land and springs rich in valuable minerals characterise the charming locality of Fratta Terme. Known for its thermal baths, whose beneficial effects were well known during Roman times, Fratta Terme is nestled in a valley dedicated to sports and wellness.
From Fratta Terme, visitors can easily reach the Adriatic Coast and the Apennine foothills. However, in the surrounding areas you will find a territory well suited to cycling and hiking, where spending time on your bike has never been so inspiring and enjoyable.
• Fratta Terme bike hotels •
• Where to ride in Fratta Terme •
La Calla Pass

For those who never have enough of climbing, this challenge is right up your alley. La Calla Pass is a long 13 km climb that will take you to the border with Tuscany. We depart from Fratta Terme towards Meldola, where we follow the signs for S. Sofia along the SP4. Until Civitella, the road undulates slightly, without offering difficult terrain. To here, we have travelled a distance of 25 km.
We cross the village of Civitella, turning towards Galeata and then towards S. Sofia where leaving behind the village, we follow the signs for the Corniolo National Park. The road begins to climb gently up to Corniolo, where we clock km 48.
Pieve di Rivoschio

In this challenge, forget about long stretches of flat terrain. We climb and descend continuously for 60 km, with an altitude difference of 616 m. From Fratta Terme, we follow the signs towards Meldola, taking on regular ups and downs along which it is easy to find a rhythm. Just before reaching the town, we follow the signs for Borello, Pieve di Rivoschio. Another 10 km of undulating road and we climb for approximately 5 km, riding long but easy turns, interspersed with more difficult stretches with gentle slopes. The last km is a true and difficult ascent, with a rough road surface that does not help cyclists gain speed.
Monte Cavallo (MTB)

Set in the green heart of the Romagna, an off road challenge that sets off from the beautiful Bertinoro hills, where Fratta Terme is located. Just a few kilometres away stands Monte Cavallo, at an altitude of 425 m above sea level, a 4 km climb that is accessible to all skill levels.
From Terme di Fratta, we once again climb the small valley of Rio Salso, up to Monte Cavallo, from where we continue our descend to Formignano, home to sulphur mines up to a few decades ago. We travel along the unpaved road of Via della Croce, leaving S. Mamante behind for a steep descent towards Rio Salso, and we take the road back.
Sulparo Pass or Monte delle Ruote

Another challenge for expert climbers, covering a distance of approximately 70 km with an altitude difference of 1,518 m. We set off from Meldola, travelling towards Civitella. Here after just 18 km, we begin the climb towards Monte delle Ruote, a distance of just under 3 km with an average gradient of 13.3% and peaks around 22%. At the top of the pass, we will find a monument dedicated to cyclists and a plaque that reads "Romagna's beautiful and impossible. Like a lover, first I fascinate you, then you hate me and finally you love me".
• Best tours nearby Fratta Terme •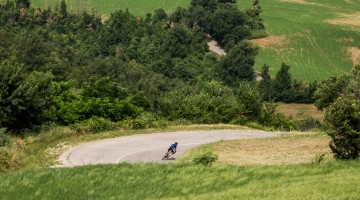 MORE
The river Ronco and Ravenna capital of Empire
| | |
| --- | --- |
| | Difficulty Easy |
| | Distance 77.5km |
| | Elevation gain 100mt |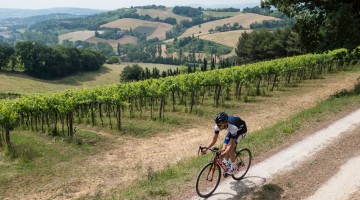 MORE
Fratta - Barbotto - Perticara - San Marino - Fratta
| | |
| --- | --- |
| | Difficulty Medium - Hard |
| | Distance 146km |
| | Elevation gain 1779mt |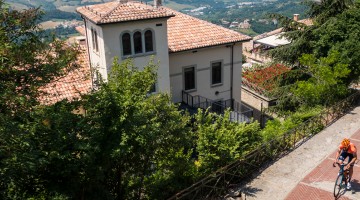 MORE
The valleys of Mussolini and of architecture rationalist and liberty
| | |
| --- | --- |
| | Difficulty Medium - Hard |
| | Distance 99.44km |
| | Elevation gain 1700mt |