The capital of holidays in the Sun, of the sea, of fun, but also of recreation and sports, Cesenatico is certainly an unmissable destination for all cycling enthusiasts.
Forgiving in terms of the landscape, yet challenging once inside the hinterland, Cesenatico offers countless low traffic and well kept biking routes, ideal for all abilities: the numerous flat routes that run between Gatteo, San Mauro Pascoli and Savignano sul Rubicone, to the hills that characterise the Nove Colli Gran Fondo race, a favourite with touring cyclists, which each year attracts more than 10,000 participants from around the world. Here was born, lived and trained the glorious and legendary Marco Pantani, who never stopped cycling through these hills.
Cycling fans must certainly not forget to also visit the "Pantani Space", museum that traces the celebrated career of the "Pirate".
• Cesenatico bike hotels •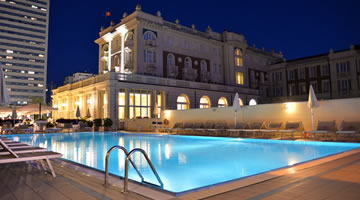 MORE
Grand Hotel Cesenatico
Cesenatico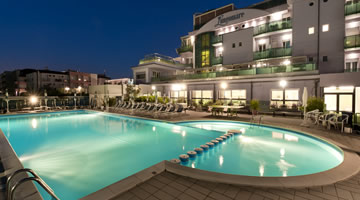 MORE
Hotel Lungomare
Villamarina di Cesenatico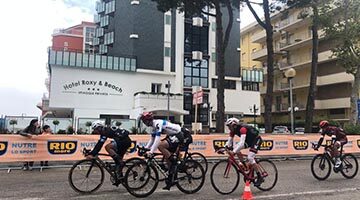 MORE
Hotel Roxy & Beach
Cesenatico
• Where to ride in Cesenatico •
Marco Pantani's Carpegna

This is the mountain of those who know how to love it, of those who have dreamed about it and of those who have decided to take on its challenge once, twice, countless times. Like the "Pirate", Marco Pantani, born at sea level in Cesenatico, who discovered his legendary racing abilities along some of the greatest climbs in the world of cycling.

Although the ascent is short, 6 km from the town of Carpegna (located at an altitude of 750 metres above sea level), riders will arrive at an altitude of 1,358 metres above sea level. A 39×25 gear will not be adequate for reaching the summit (Pantani would used a 39×19/21 on the toughest stretch).
Barbotto

The "bogeyman" of the Nove Colli Gran Fondo thanks to the demanding incline of its last kilometre, the route covers a distance of 5.5 km with an average slope of 6.9% and a difference in altitude of 372 metres, and is capable of challenging even well-trained cyclists. There are 43 kilometres to cover from Cesenatico, quite easy to manage, for reaching the foot of the Barbotto in the town of Mercato Saraceno.
From Cesenatico to Lido di Dante (MTB)

80 km of flat terrain characterised by medium-low difficulty: the challenge we propose sets off in Cesenatico and takes you through Lidi di Classe, Foce del Bevano, Lido di Dante and Lido Adriano, avoiding paved roads as much as possible. We therefore recommend that you bring along a few inner tubes or liquid sealer in case of punctures.

No particular preparation is required for this itinerary, the route is for everyone and those who are fans of "fat bikes" will certainly enjoy what it has to offer: sand, dirt, grass, roots, ups and downs, make this itinerary a fun challenge without difficulties due to changes in elevation.
Montereale, Monteleone and Montecodruzzo (MTB)

In a succession of dirt tracks and paved stretches, challenging climbs and steep descents, riders will have the opportunity to show off their best technical skills. The challenge covers a distance of 39 km, with an altitude difference of 556 m, with an itinerary rich in historic sites, sure to impress even the most fatigued cyclists.
We set off from Borello, not far from Formignano, where, in the Mining Village Museum, cyclists will have the opportunity to discover the history of the production of this territory and of the men who worked in the sulphur mines. We head towards Montereale through the hills surrounding Cesena, with the road sloping gradually up to Ardiano, for a distance travelled of approximately 15 km.