Considered, since ancient times, to have divine origins thanks to the health benefits provided by its thermal waters, Bagno di Romagna is a small village nestled in the Tuscan-Emilian Apennines, a temple of slow living, with a free and wild spirit in harmony with the surrounding nature.
From the Casentino Forest National Park and the Pietrapazza Valley, until reaching the slopes of Mount Còmero, a dense network of small towns and trails stretch out, which every year attract and embrace countless cycling enthusiasts, especially during the spring and autumn seasons when the colours of the surrounding landscapes take your breath away.
• Bagno di Romagna bike hotels •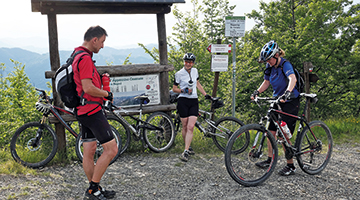 MORE
Hotel delle Terme Santa Agnese
Bagno di Romagna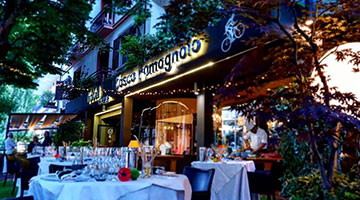 MORE
Hotel Tosco Romagnolo
s
Bagno di Romagna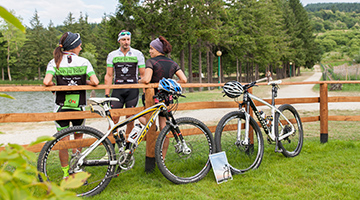 MORE
Hotel Miramonti
Bagno di Romagna
• Where to ride in Bagno di Romagna •
Passo Carnaio (ROAD)

Passo del Carnaio is an ascent best suited for experienced climbers, with a difficult climb that connects Bagno di Romagna and Santa Sofia (in other words the upper Savio valley with the Bidente valley and the Forlì plain). The route covers a distance of just over 4 km with an average gradient of 7% and maximum gradients of 15%. The ascent can be attempted from various sides. We recommend the San Piero in Bagno route, which sets off a couple of kilometres from Bagno di Romagna. The initial stretch, offering an average gradient of 6%, is followed a section of quick switchbacks and steep slopes that will test your limits.

The route stretches out mostly in the open, amidst cultivated fields, meadows and pastures, on the one hand, and the wooded mountains of the Tuscan/Romagna ridge on the other. The itinerary is therefore not recommend during the hotter summer months.
Passo dei Mandrioli (ROAD)

Scenic access point to the Tuscan region, Passo dei Mandrioli is a long yet relatively easy climb covering a distance of 11.5 km with an average gradient of 5%. Shortly after Bagno di Romagna and once you have made your way across the Becca stream, the road begins to climb at regular gradients between the rocky walls. After the first stretch known as "Le Scalacce" and surrounded by characteristic rock formations, and once you have left behind the village of Ravenna Montana  (at an altitude of 917 m above sea level), the route continues into the thick woods until reaching the pass (at an altitude of 1,173 m above sea level). This last stretch offers more challenging, yet regular gradients. A 38 x 23 gear combination is recommended.
Monte Fumaiolo (ROAD)

Don't be fooled! Despite of the small difference in altitude, the Mount Fumaiolo climb is not to be taken light-heartedly. Covering a distance of 60 km, with a vertical drop of 1,497 meters, the route calls for a calm and collected pace, while allowing you to enjoy the surrounding scenery. The departure point is in Bagno di Romagna, following the signs for Acquapartita, where a 3 km climb with mild slopes begins, followed by the 4 km ascent to Mount Còmero. The final section offers a road surface that does not make it easy to push hard on the pedals.

Rio Petroso Loop (MTB)

Fully marked and covering a distance of 33 km, this loop trail that starts and finishes in San Piero in Bagno, along mule tracks and rough trails (including downhills), is ideal for experienced riders. From San Piero in Bagno (at an altitude of 463 m above sea level) the routes makes its way almost to the top of Passo del Carnaio (at an altitude of 790 m above sea level) along a stretch of dirt road. Biking along a series of slopes and descents, you will reach the ruins of the Church of S. Biagio in Rio Petroso (at an altitude of 618 m above sea level).
Monte Còmero Loop (MTB)

Short but challenging route covering a distance of nearly 18 km, with departure from Bagno di Romagna on asphalt and a second stretch entirely on dirt roads and trails, immersed in green landscapes.

From Bagno, after riding for 2 km towards San Piero in Bagno, bear right taking the SP 43 provincial road towards Alfero.  Follow Via Valgimigli and just before reaching a junction take a sharp right and cycle uphill until reaching the historic "Còmero Mule Track". Here, old oak trees shade your progress as you reach another uphill dirt road bordering Poggio Piccioni (at an altitude of 652 m above sea level).

• Best tours nearby Bagno di Romagna •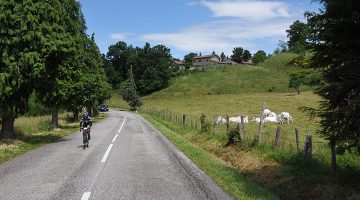 MORE
Diga Di Montedoglio - Lungo
| | |
| --- | --- |
| | Difficulty hard |
| | Distance 126 km |
| | Elevation gain 1360 m |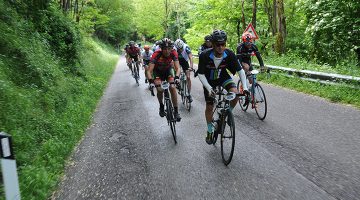 MORE
Diga di Montedoglio - Corto
| | |
| --- | --- |
| | Difficulty medium/hard |
| | Distance 110 km |
| | Elevation gain 870 m |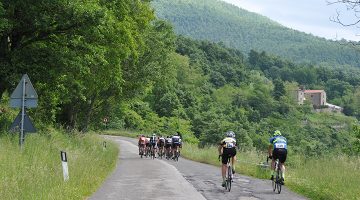 MORE
Medio Fondo del Capitano
| | |
| --- | --- |
| | Difficulty medium |
| | Distance 86 km |
| | Elevation gain 760 m |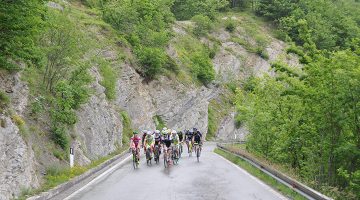 MORE
La Verna
| | |
| --- | --- |
| | Difficulty medium/hard |
| | Distance 89 km |
| | Elevation gain 1200 m |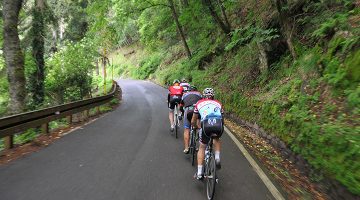 MORE
Camaldoli - La Verna
| | |
| --- | --- |
| | Difficulty medium/hard |
| | Distance 126 km |
| | Elevation gain 1200 m |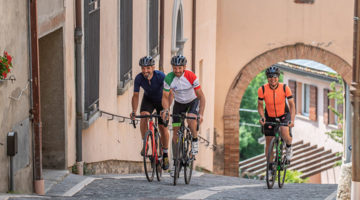 MORE
3 dei 9 Colli
| | |
| --- | --- |
| | Difficulty hard |
| | Distance 150 km |
| | Elevation gain 820 m |